Single Visit Crowns (CEREC®)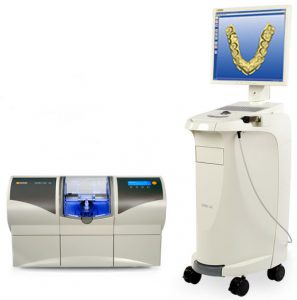 Austin Dental Spa now offers the opportunity to have beautiful, natural-looking dental crowns in just one visit with the CEREC® dentistry system! This revolutionary approach to fabricating ceramic crowns features an in-office milling machine that eliminates the need to have crowns made by an outside dental laboratory.
In just one visit, you can have ceramic dental crowns custom-made right here at Austin Dental Spa and fitted to match your existing teeth seamlessly. Why not relax and enjoy a soothing massage while our dentist restores strength and beauty to your smile? Our goal is to help you feel comfortable at every step of your dental treatment, and with the CEREC® system, you can achieve more efficient restorations with the high quality that you have come to expect from our team.
Benefits of CEREC®
The innovative CEREC® system provides a number of benefits to our patients who are in need of a crown or other restoration. These advantages include:
Impressions are more comfortable since they are taken digitally
3D imaging provides an accurate prosthesis that is custom-designed
All steps are completed in-office for a more convenient procedure
Process is faster, only taking about one hour
The Procedure
By using CEREC® technology, our team is able to provide an overall more pleasant process. This begins with a digital impression that is taken using a camera to scan your mouth. A dental prosthesis is then designed on the computer, after which the manufacturing process can begin. Once the custom-made ceramic crown has been crafted in our in-office milling machine, your crown can be fitted and placed on the prepared tooth.
The entire process takes approximately one hour to complete, from start to finish. Since all steps can be completed within one day, there is no need for a temporary crown or follow-up treatments to provide the finishing touches to your new restoration. As a result, you can leave our office with a new crown and a smile you feel proud to reveal.
Dr. Sweeney, our cosmetic dentist, has extensive advanced training in this technology, as it is changing almost monthly. We are committed to incorporating CEREC® technology into our practice to the fullest extent, for the benefit of our patients both in reduced treatment times and superior end results.
Contact Austin Dental Spa
For more information on single-visit crowns, or if you would like to schedule an appointment with one of our experienced dentists, please contact Austin Dental Spa.