Single Visit Crowns (CEREC®)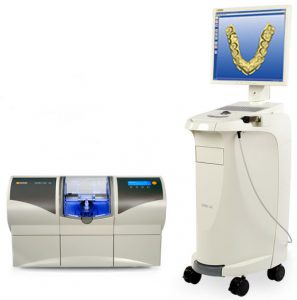 Austin Dental Spa now offers the opportunity to have beautiful, natural-looking dental crowns in just one visit with the CEREC® dentistry system! This revolutionary approach to fabricating ceramic crowns features an in-office milling machine that eliminates the need to have crowns made by an outside dental laboratory.
In just one visit, you can have ceramic dental crowns custom-made right here at Austin Dental Spa and fitted to match your existing teeth seamlessly. Why not relax and enjoy a soothing massage while our dentists and team restore strength and beauty to your smile? Our goal is to help you feel comfortable at every step of your dental treatment, and with the CEREC system, you can achieve more efficient restorations with the high quality that you have come to expect from our team.
What Are the Benefits of CEREC?
The innovative CEREC system provides a number of benefits to our patients who are in need of a crown or other restoration. These advantages include:
Impressions are more comfortable since they are taken digitally
3D imaging provides an accurate prosthesis that is custom-designed
All steps are completed in-office for a more convenient procedure
Process is faster, only taking about one hour
Dr. Sweeny took my appointment during the holidays and took great care of me. I needed two crowns (yes, on the same day), and I couldn't have asked for better treatment. They were patient with me, explained every step along the way, and engaging, as well as being darn good at what they do. Thank you Dr. Sweeny to you and your ENTIRE staff!

Cathy Bradley

January 16, 2019

12345
What Does the CEREC Crowns Procedure Entail?
By using CEREC technology, our team is able to provide an overall more pleasant process. This begins with a digital impression that is taken using a camera to scan your mouth. A dental prosthesis is then designed on the computer, after which the manufacturing process can begin. Once the custom-made ceramic crown has been crafted in our in-office milling machine, your crown can be fitted and placed on the prepared tooth.
The entire process takes approximately one hour to complete, from start to finish. Since all steps can be completed within one day, there is no need for a temporary crown or follow-up treatments to provide the finishing touches to your new restoration. As a result, you can leave our office with a new crown and a smile you feel proud to reveal.
Dr. Sweeney, our cosmetic dentist, has extensive advanced training in this technology, as it is changing almost monthly. We are committed to incorporating CEREC technology into our practice to the fullest extent, for the benefit of our patients both in reduced treatment times and superior end results.
What Kind of Results Can I Expect from Porcelain Crowns?
Dental crowns are carefully designed by our dentists to restore the form and function of a damaged tooth with incredibly natural-looking results. After your CEREC crown has been permanently affixed to your prepared tooth, you can expect the new restoration to last for as long as 10 to 30 years.
Although crowns can last for many years, keep in mind that they are prone to wear and tear. One habit that can shorten the lifespan of your crown is teeth grinding or clenching. If you are prone to grinding your teeth while you sleep, you should wear a night guard to protect your crown as well as natural teeth. By limiting your teeth grinding, you can help prevent your crown from breaking or becoming prematurely worn down.
How Much Do Porcelain Crowns Cost?
The average cost of a dental crown can range between $1,000 to $3,500. This total may vary based on a number of factors, such as the material being used and if a temporary restoration is needed. Since our single-visit CEREC crowns allow for us to complete the entire procedure in one appointment, you can avoid the expense and hassle of needing to return for a secondary visit where the final restoration is typically placed. In addition, you will not have any extra fees from outside lab technicians, since your custom restoration is fabricated in our office. If our dentists recommend you receive a porcelain crown, they can provide you with a cost estimate to help you plan for your treatment. Should you be interested, our team can help you sign up for dental financing to help break your total cost into smaller, monthly payments.
Contact Austin Dental Spa
For more information on single-visit crowns, or if you would like to schedule an appointment with one of our experienced dentists, please contact Austin Dental Spa.