Teeth Whitening
Only select dentists around the country have been approved to use the amazing Zoom!® Advanced Power™ in-office teeth whitening system, and we are proud that Austin Dental Spa is one of those! Zoom!® Advanced Power™ is the latest and most technologically advanced teeth whitening system available. Developed by the same former NASA scientist who invented the laser used in LASIK eye surgery, the light source in the Zoom!® Advanced Power™ process is a safe blue-plasma light that enhances the penetration of their patented bleaching gel, resulting in changes from 8-12 shades in a single appointment. Check out the dramatic results in our before-and-after smile makeover photos! This process is painless, effective, and long-lasting. Why live with a smile that is dingy, yellow, or discolored when you can enjoy dazzlingly white teeth in just one relaxing visit to Austin Dental Spa for Zoom!® Advanced Power™ teeth whitening?

Dr. Mark is a Rock Star!! I have been visiting Dr. Mark at Austin Dental Spa for 7 years. I have had Zoom whitening, a crown and root canal. All treatments were flawless and seamless. Thanks to Dr. Mark's staff I actually look forward to going to dentist. And the foot massage is a huge bonus. I would highly recommend Dr. Mark Sweeney to anyone looking for a top dentist in Austin. Five stars for Dr. Mark and his amazing staff.

Gretchen Ferguson

June 16, 2018

12345
KöR Whitening Deep Bleaching™ System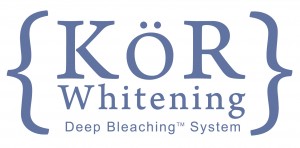 For more severely stained teeth, KöR Whitening is the superior option. It is known as the most effective whitening treatment that has ever been developed and is even able to whiten darkly stained, tetracycline-affected teeth, which has never been possible before. With this revolutionary bleaching system, your smile can be dramatically improved, lightening up to 16 shades or more. With KöR Whitening, it's possible for any shade of teeth, even the most severely stained, to be turned into beautiful, shining smiles again.
The KöR Whitening process involves two to three office visits in addition to wearing the KöR Whitening Trays for two weeks at home. Although it is a more complex whitening treatment, our patients find it both convenient and comfortable, as they can wear the thin, fitted trays while sleeping. Unlike many other bleaching solutions, the concentrated gel formula used in KöR Whitening leaves patients with little to no sensitivity. While it is more involved and expensive than the Zoom!® Advanced Power™ treatment, it is also more effective and reliable.
With the occasional home maintenance, the KöR Whitening Deep Bleaching™ system is a permanent solution that can even withstand such staining agents as coffee, tea, red wine and smoking. Patients who have undergone KöR Whitening often consider it a worthwhile investment, as it lasts much longer than other whitening treatments available.
The Zoom!® Advanced Power™ In-office Teeth Whitening Process
Our cosmetic dentist, Dr. Mark Sweeney also offer Zoom!® Advanced Power™. This is the fastest and most effective in-office teeth whitening method currently on the market. In the past, patients used ill-fitting trays to whiten their teeth at home. The process took about two weeks, and patients' teeth became four to five shades whiter after the full course of treatment. With Zoom!® Advanced Power™ in-office teeth whitening at our Central Texas dental spa, patients can undergo dramatic changes in about two hours! We routinely achieve results that are 8-12 shades whiter than when the patient came in, and our record is a remarkable 15 shades! This patented process involves placing a whitening gel on your teeth, and then using a blue plasma light to catalyze the intense teeth whitening effect. Both upper and lower teeth are treated simultaneously. The results are dramatic, and our patients often comment that they are surprised by how much younger, healthier, and more vibrant they look after a single session.
Zoom!® Advanced Power™ Teeth Whitening Results and Cost: A Lasting Investment in Your Smile
After your Austin Dental Spa teeth whitening treatment, your teeth will always be whiter than they were before. To keep your whitening results brilliant, we recommend flossing, brushing two times a day, and occasional touch-ups with your new custom-fitted whitening trays and Nite White® gel. We make the custom teeth whitening trays right here in our office while you receive the Zoom!® Advanced Power™ treatment and you will also be given a Nite White® gel touch-up kit, so keeping your teeth white at home will be a breeze.
Our patients believe that the Zoom!® Advanced Power™ treatment is a very worthwhile investment in their self-image. Of course, you will also receive the royal Austin Dental Spa treatment complete with complimentary arm, hand, or foot massage. Wouldn't it be nice if you could take a spa day and have your teeth whitened at the same time? Now you can: at Austin Dental Spa, our teeth whitening patients enjoy the most pleasant and indulgent dental visits imaginable!
After Care: Maintaining Your White Smile
To keep your smile as white and gorgeous as possible, it is important to follow up your Austin Dental Spa teeth whitening session with regular maintenance and strong oral health. Smokers present the biggest challenge in maintaining their whitening results long term. We strongly recommend that if you smoke, you use the custom trays at home a few times a week after receiving the Zoom!® Advanced Power™ treatment. This simple addition to your daily routine seems to prolong the whitening effects even for heavy smokers. Another problem with any teeth whitening method is previous dental work in the "smile zone." Old crowns or fillings will not whiten along with your teeth, therefore making them much more obvious than before whitening. Most patients elect to have this dental work replaced shortly after whitening with new dental crowns, white fillings, or even porcelain veneers.
Contact Austin Dental Spa
Zoom!® Advanced Power™ teeth whitening is a great way for our Central Texas patients to complete the look of their smile makeovers. There is nothing like the immediate sense of satisfaction and pride that comes with seeing your new, healthy smile illuminated. When our patients come to Austin Dental Spa for their teeth whitening session, they are also pampered in a completely luxurious spa environment. If you would like to learn more about how you can refresh your appearance and relax your spirit in just a few hours with teeth whitening at Austin Dental Spa, please contact us to schedule your consultation.