ADDX: Dental Diagnostic Technologies
Austin Dental Spa stays up-to-date with advanced dental technology to provide patients with the best care possible. Through the use of the following ADDX diagnostic technologies, we can detect the early signs of gum disease for early treatment. As a result, our patients often experience improved oral health and a greater ability to preserve their beautiful smiles.
Identafi® 3000 Ultra

Unfortunately, in roughly 70 percent of cases, oral cancer is not detected until it has reached an advanced stage. As with any serious illness, early diagnosis of mouth cancer is very important to successful treatment and eventual remission. To help us ensure the oral health of our patients, we at Austin Dental Spa are pleased to offer oral cancer screenings using the Identafi® 3000 Ultra system. Identafi utilizes a special frequency light that is guided around the mouth to identify abnormal tissues. Healthy tissue will appear to glow, while abnormal tissue will remain dark. If Dr. Sweeney identifies any potential risk of oral cancer, he and our team will work to tailor a treatment to suit the patient's needs.
Computerized Digital Radiography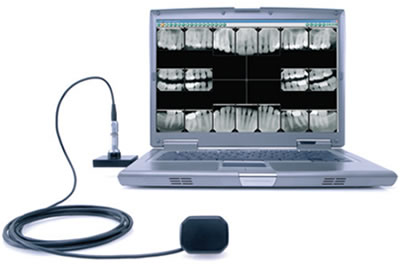 We use Schick Technologies' Computerized Digital Radiography® (CDR®) to take safer, better, faster, and smarter X-rays of your mouth. CDR® X-rays produce 90 percent less radiation and are environmentally friendly. Images can be recalled instantly, magnified (up to 300x), colorized, and reverse-contrasted. Because CDR® can reveal more than regular film, doctors can make more precise diagnoses and provide better care. Plus, with monitors in all of our treatment rooms, patients at Austin Dental Spa can look at their X-ray results with their dentist, allowing them to work together to form the right treatment plan.
DIAGNOdent®
While Dr. Mark Sweeney has earned a reputation for superior cosmetic dentistry results, we know that to make your smile beautiful, we have to make it healthy first. At Austin Dental Spa, we use the most modern laser dentistry technology to promote our proactive approach to general and preventive dentistry, including the revolutionary DIAGNOdent® diagnostic aid. With DIAGNOdent®, we can use high power laser energy to help us detect decay at the earliest stages—much sooner than we could previously identify problems. The DIAGNOdent® system uses the energy of light, enabling us to conduct non-invasive and painless examinations. Early diagnosis of a problem such as decay or the presence of unwanted bacteria allows us to treat issues sooner and more conservatively, saving our patients time, money, and discomfort. Why wait to treat small cavities until they become large problems? With DIAGNOdent® laser dentistry at our Central Texas dental spa, you can take a proactive approach to maintaining optimal oral health, ensuring you have a smile to be proud of for years to come.