Dr. Mark Sweeney and our team strive to make each patient's visit to Austin Dental Spa comfortable, convenient, and highly effective. Modern laser dentistry technology such as the Waterlase® MD system has revolutionized dental diagnostics and treatment, and we are proud to feature this and other state-of-the-art tools at Austin Dental Spa in Central Texas. To maintain the best possible oral health for our valued patients, we employ the ADDX systems for bacteria. These tests allow us to diagnose serious bacteria levels and the presence of oral cancer or lesions much sooner than was ever before possible, allowing us to proactively treat any issues. Our Austin-area patients can also enjoy same-day restorations with the CEREC® dentistry in-office milling system. This means they no longer have to make repeated visits to our office for impressions, temporary crowns, then final fittings. With the modern technology we employ combined with the unsurpassed comfort and relaxation we can provide through our dental spa, our patients can enjoy the most comprehensive and comfortable dental care available anywhere.
The best dental care in Texas! Down to earth care with leading edge technology. Everyone is interested in your care from the time you walk in the door to checking up on you after your appointment / procedure the next day.

Robert Burke

January 05, 2018

12345
More Reviews
Video Image Placeholder
CEREC® Same-Day Dentistry
One of the many ways we improve our patients' experiences with us is to ensure that their treatment is completed as quickly and comfortably as possible. Our team in Austin is proud to utilize the CEREC® dentistry system, which allows us to create customized restorations for our patients in as little as one hour per tooth! This means that when you come in for a dental crown, inlay or onlay, there is no longer a need to be fitted with a temporary restoration while an off-site laboratory mills your replacement, which could take weeks.
How It Works
With the CEREC® dentistry system, the milling unit that creates the crown is controlled by a computer equipped with the proprietary CEREC® 3D software. From images of your smile obtained with a special infrared camera, Dr. Sweeney and the team can use the computer to create crowns that blend in perfectly with the surrounding teeth. While we custom-craft your restoration, you can enjoy a soothing massage. By the time you leave our office your restoration will be permanently affixed to your tooth, leaving you with a smile that is beautiful and strong. Not only does the CEREC® 3D system allow for a truly relaxing experience, it also eliminates the need for an additional visit and more anesthesia, which all of our patients appreciate. At Austin Dental Spa, CEREC® dentistry allows us to provide our patients with more efficient, comfortable, and cost-effective services than ever before. If you have been postponing important restorative dental treatment because you feel it is inconvenient, come in to Austin Dental Spa, where we can use CEREC® dentistry technology to fashion the ideal restoration for you while you unwind.
Waterlase® MD Laser Dentistry
Many patients who are troubled by dental anxiety or fear of the dentist cite the noises and sensations associated with dental drilling as key triggers for their distress. The high-pitched noise, constant vibrations, heat, and occasional contact with tooth nerves can make dental drilling an unpleasant experience for any patient. At Austin Dental Spa, we employ the latest laser dentistry technology to help make our Central Texas patients' visits with us as comfortable as possible. Waterlase® MD is an extraordinary new tool that allows us to perform a number of dental procedures without the need for drills, needles, or any anesthetic in most cases.
How it Works
With Waterlase® MD, laser dentistry energizes purified water droplets, which Dr. Sweeney and the team can utilize to remove decay, gum tissue, and even enamel (the hardest substance in the human body). The very precise stream emitted by the Waterlase® MD handpiece allows Dr. Sweeney to target only the tissues he wants to remove, leaving adjacent healthy tooth and gum tissues unaffected. Our Austin team can use Waterlase® MD to treat cavities and decay, prepare teeth for fillings and porcelain veneers, correct a gummy smile, and even treat canker and cold sores.
While the multiple applications for the Waterlase® MD system enhance patient convenience by reducing treatment time, the most marked benefit we see from this system is the dramatic reduction in patient discomfort. Because Waterlase® MD generates no heat or vibrations and only makes a gentle spraying noise, our patients find that it makes tooth preparation and treatment much more comfortable than they ever thought was possible. In fact, most Waterlase® MD procedures are performed without the need for any anesthetic at all! Furthermore, the precision of Waterlase® MD means less trauma to healthy tissues, which cuts down on post-treatment discomfort and sensitivity as well. At Austin Dental Spa, laser dentistry with Waterlase® MD is just one of the many ways we fulfill our promise to ensure our Central Texas patients' comfort and health.
ADDX: Dental Diagnostic Technologies
Austin Dental Spa stays up-to-date with advanced dental technology to provide patients with the best care possible. Through the use of the following ADDX diagnostic technologies, we can detect the early signs of gum disease for early treatment. As a result, our patients often experience improved oral health and a greater ability to preserve their beautiful smiles.
Identafi® 3000 Ultra

Unfortunately, in roughly 70 percent of cases, oral cancer is not detected until it has reached an advanced stage. As with any serious illness, early diagnosis of mouth cancer is very important to successful treatment and eventual remission. To help us ensure the oral health of our patients, we at Austin Dental Spa are pleased to offer oral cancer screenings using the Identafi® 3000 Ultra system. Identafi utilizes a special frequency light that is guided around the mouth to identify abnormal tissues. Healthy tissue will appear to glow, while abnormal tissue will remain dark. If Dr. Sweeney identifies any potential risk of oral cancer, he and our team will work to tailor a treatment to suit the patient's needs.
Computerized Digital Radiography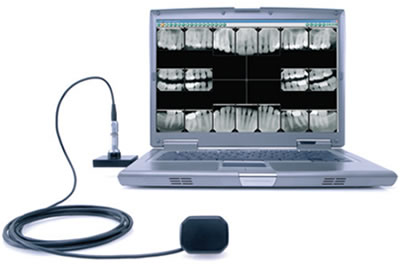 We use Schick Technologies' Computerized Digital Radiography® (CDR®) to take safer, better, faster, and smarter X-rays of your mouth. CDR® X-rays produce 90 percent less radiation and are environmentally friendly. Images can be recalled instantly, magnified (up to 300x), colorized, and reverse-contrasted. Because CDR® can reveal more than regular film, doctors can make more precise diagnoses and provide better care. Plus, with monitors in all of our treatment rooms, patients at Austin Dental Spa can look at their X-ray results with their dentist, allowing them to work together to form the right treatment plan.
DIAGNOdent®
While Dr. Mark Sweeney has earned a reputation for superior cosmetic dentistry results, we know that to make your smile beautiful, we have to make it healthy first. At Austin Dental Spa, we use the most modern laser dentistry technology to promote our proactive approach to general and preventive dentistry, including the revolutionary DIAGNOdent® diagnostic aid. With DIAGNOdent®, we can use high power laser energy to help us detect decay at the earliest stages—much sooner than we could previously identify problems. The DIAGNOdent® system uses the energy of light, enabling us to conduct non-invasive and painless examinations. Early diagnosis of a problem such as decay or the presence of unwanted bacteria allows us to treat issues sooner and more conservatively, saving our patients time, money, and discomfort. Why wait to treat small cavities until they become large problems? With DIAGNOdent® laser dentistry at our Central Texas dental spa, you can take a proactive approach to maintaining optimal oral health, ensuring you have a smile to be proud of for years to come.
Digital Imaging: Smile Previews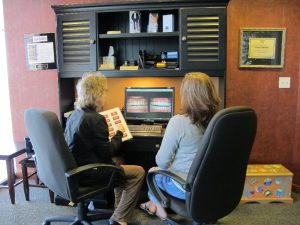 Are you considering cosmetic dentistry, but not sure if you are ready for a new smile? Dr. Sweeney now uses digital imaging technology so our patients can preview their smiles to see what they will look like after teeth whitening, porcelain veneers, or any other smile makeover or restorative dentistry enhancement. Through computer simulation, we can plan your new smile makeover without ever touching your teeth! This allows us to decide on the shape, length, and color that you desire, let you approve the look, and then use that as a guide for your final restorations. No more guesswork. Dr. Sweeney was one of the early pioneers with imaging, and has performed hundreds of smile makeovers utilizing this technology. Prepare to be amazed! Dr. Sweeney has been nationally recognized for his superior work in cosmetic dentistry. Smile makeovers are truly a unique art and Dr. Sweeney has found his niche and mastered it beautifully! His eye for beautiful smiles can guide you in designing your dream smile. Our team will be happy to schedule a consultation appointment to discuss changing your smile!
Planmeca ProMax® 3D Mid Cone Beam CT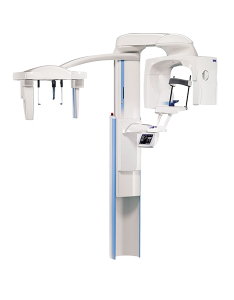 The Planmeca ProMax® 3D Mid is a CBCT (cone beam computed tomography) system that allows our team to capture in-depth imaging of a patient's oral structures. Among its advanced capabilities, the all-in-one CBCT technology takes 3D photos, as well as digital 2D panoramic photos, providing a comprehensive view inside the patient's mouth. In fact, this system provides 10 times more information than traditional X-ray technology, and the entire process can be completed within about 14 seconds. As an added benefit, no bitewings or other devices need to be placed within the mouth to take the digital images, making this significantly more comfortable for patients while supporting our sanitation practices.
The Planmeca ProMax® 3D Mid is a valuable diagnostic tool that our dentists utilize for planning a variety of dental procedures. This system is often used for treatment plans that involve dental implants, periodontal therapy, and orthodontics
Contact Us for Advanced Technology and Laser Dentistry in Central Texas
At Austin Dental Spa, we are proud to offer the latest in laser dentistry, such as Waterlase® MD and the ADDX diagnostic system, to our Central Texas patients. These advances in dental technology have revolutionized the way we practice dentistry by giving us more effective methods to ensure the health and comfort of our patients. Furthermore, the use of CEREC® dentistry restorations means that, at Austin Dental Spa, patients can have customized crowns and more created for them while they relax. For a truly state-of-the-art dental experience, contact Austin Dental Spa, and see how comfortable and convenient modern dentistry can be.