About Mark Sweeney, DDS
Dr. Mark Sweeney has been practicing as a cosmetic dentist since 1979, and is known nationally for his expertise and artistry in smile makeovers. He created Austin Dental Spa with the discerning cosmetic patient in mind. He maintains his general dental skills by caring for several thousand loyal patients who won't let anyone else treat them. His easygoing demeanor and passion for dentistry puts people of all walks of life at ease while they are discussing or undergoing treatment.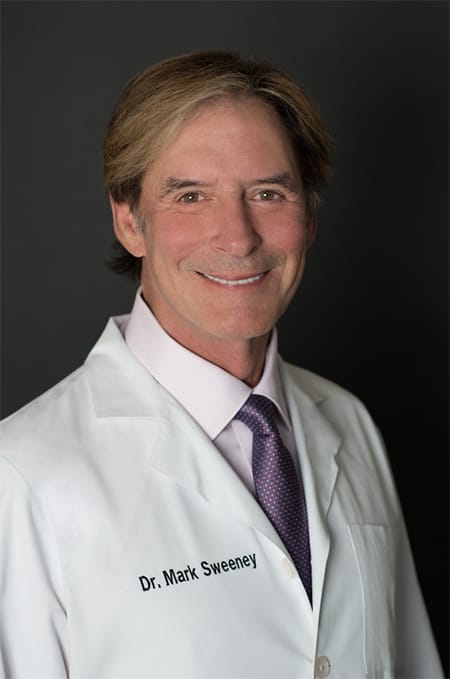 Background & Education
A graduate of the University of Texas at Austin (1975) and the University of Texas Health Science Center Dental School (1979), Mark began his career as a cosmetic dentist in Austin in 1979. While providing general dental care, his main passion was improving people's appearances through cosmetic procedures. Though modern cosmetic procedures did not even exist in the early years of his career, he improvised with the materials available at the time to whiten, reshape, and replace front teeth to give people the smiles they dreamed of. Now, Dr. Mark Sweeney has become a renowned cosmetic dentist, and his Austin Dental Spa is equipped with the very latest technology. Dr. Sweeney excels at placing DURAthin
®
porcelain veneers
and employs other state-of-the-art technologies to transform our patients' smiles. He has also established a reputation in Austin and beyond as a trusted sedation dentist, helping his patients relax during their treatments.
Video Image Placeholder
There really isn't any other dentist in town to go to . There is a reason he wins best dentist by Texas Monthly in the state ! Amazing !

Marcus Reese

August 05, 2017

12345
More Reviews
Professional Associations
Dr. Sweeney has taken several hundred hours of continuing education, and studied with the leading cosmetic dentists in the country, and is a sustaining member in the American Academy of Cosmetic Dentistry. A premier sedation and cosmetic dentist in Austin, Dr. Mark Sweeney is a member of the following:
Capital Area Dental Society
Texas Dental Association
American Dental Association
American Academy of Cosmetic Dentistry
Academy of General Dentistry
American Endodontic Society
United States Dental Tennis Association
Academy of Comprehensive Esthetics
Founding Member of the Texas Academy of Cosmetic Dentistry
Personal Life
Dr. Mark Sweeney is blessed with five wonderful children – Julian, Marcus, Clark, Mason and Danielle. He is an avid tennis player, and also entertains dental audiences around the country as a stand-up comic and guitarist. Who needs laughing gas?
An Interview with Dr. Mark Sweeney
Get to know more about Dr. Sweeney's background and what drives his passion for dentistry by reading his interview with Austin Monthly Magazine below.
Q: What attracted you to being in the field of dentistry?
Initially, I wanted to be a doctor like the television doc Marcus Welby, M.D., saving lives. However, a guy that grew up down the street from my childhood family home got into dental school. While I was attending medical school in Houston, he was my brother's roommate. I hung around him some and saw what he was working on—making teeth, building dentures, carving things with his hands under magnification, and it looked like a lot of fun. So I changed majors and went to dental school.
Q: What was the inspiration for you regarding your choice to pursue cosmetic dentistry as a specialization?
Cosmetic dentistry wasn't even in existence as a "specialty area" in 1979 when I graduated. But I saw a need as my practice grew, and I wanted to help those people who had always hated or been embarrassed by their smiles. I started placing the whitest filling material we had at the time over their dark teeth, and learned to sculpt it to make it look "real." As technology improved, I sought out the best teachers in the field, and learned from them.
Q: What is your favorite thing about being a dentist?
Well, nobody has ever hugged me over a root canal, even if they were up all night in pain the night before. But if you give someone a beautiful smile, their life can be changed forever. As a result, I've been the recipient of lots of hugs, flowers, cookies, and have made many long-lasting friendships. I LOVE helping people look and feel better about themselves!
Q: Are there any particular moments in being a dentist that stand out for you?
The day I completed a smile makeover on my mother (she was in her 70s at the time, she's 94 now) stands out as a pretty special day. She had never had pretty teeth and when she saw the new, white veneers, she got tears in her eyes. Maybe I did, too…
Q: As a known innovator and pioneer in the field of dentistry and cosmetic dentistry, how do you stay ahead of the curve?
I had NO idea dentistry was going to become what it has! The technology, the digital revolution, the advances in material—all are very exciting to me. I love new technology, and many salespeople representing new dental technologies know that I am an "early adopter," so they figure if they sell a new technology to me, then they can go tell all the other dentists in town "Sweeney bought one" (laughing). I take a LOT of CE classes every year, on a variety of subjects, to stay in tune with what the new trends are, and determine what will make things better, faster and more comfortable for my patients. I was the first dentist in Austin with digital X-rays (16th in the country), and one of the first to have a CEREC® machine that makes crowns in a single appointment. I also was early into lasers in dentistry.
Q: Why Austin Dental "Spa"?
I kind of fell into that—I had an opportunity to help a friend by hiring his German wife so that she could get a Green Card, back in 1999, and she was a licensed massage therapist. We just had her start massaging hands and feet while we performed the dentistry, and it just felt right. As a result, we expanded the concept. Now I can't imagine doing dentistry without that component. People LOVE being pampered in a way that they haven't experienced before.
Q: You are known to bring humor into your business. Why is that important?
I was always the Class Clown, making people laugh. I did stand-up comedy for several years in the 90s, and I still perform for dental groups a few times a year. I love to entertain people. It comes in handy chairside at times, since dentistry can be stressful (if you're the patient!).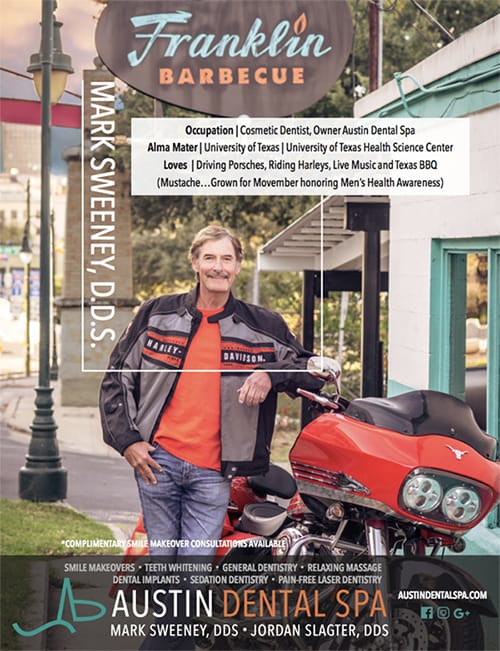 Q: What are your hobbies?
I love sports. I played basketball through my first year of college. I used to do long-distance bicycling for many years until the traffic got so bad in Austin. I played racquetball and squash at a tournament level, then switched to tennis when I started dating a woman back in the 90s, and I didn't like that she could beat me easily. So I started taking lessons, and after about 6 months, beat her for the first time. That pretty much ended that relationship; however, I fell in love with the game, and it's still a passion today.
Q: Favorite place you have traveled? Favorite city? Why?
I LOVE New Orleans! The food, the culture, the energy, the history. I also love vacationing and touring the wine country in Napa Valley.
Q: Motto for life?
He who works the hardest goes the farthest. I was taught a strong work ethic, and I apply that to everything I do. If I'm going to do something, I want to do it well.
Q: What are you the most proud of in your life?
I have three sons who are smart, handsome, and play tennis—two are in college and one is the only freshman on the Varsity team at Westlake High. I have two older children from my first marriage that are not tennis players, but I am very proud to be their father as well. My daughter has nearly finished a business degree at University of Houston working full-time, raising a stepdaughter who will be attending Texas A&M, and taking classes at night. She inherited my work ethic and drive. I am also very proud of the dental practice I have spent my adult life building—we help thousands of people have a better life through healthier mouths and more beautiful smiles! It beats working for a living!! Changing lives for the better is incredibly rewarding.
Contact Austin Dental Spa to Meet with Sedation and Cosmetic Dentist Mark Sweeney
Patients from Austin and throughout Central Texas visit us for our relaxing dental spa atmosphere, pampering amenities, and outstanding results. Contact Austin Dental Spa to schedule an appointment with sedation and cosmetic dentist, Dr. Mark Sweeney.