Here at Austin Dental Spa, we believe that everyone should have access to the best possible dental care. With that in mind, our practice accepts a number of payment methods to help bring the cost of treatment into your budget. In addition to accepting a wide range of dental insurance plans, all major credit cards as well as cash and personal checks can be used to pay for procedures. We also work with one of the most reputable healthcare financing companies in the nation, which can help qualified applicants finance their procedures over time with flexible payment plans.
Video Image Placeholder
Whether you are considering general or cosmetic dentistry, restorative dentistry, or other advanced options, the entire team here at Austin Dental Spa wants to make your experience with us as convenient as possible.
CareCredit®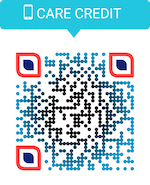 CareCredit® is a loan/credit card program with a range of options for patients who would like to spread out the payments for their treatment. The application process is quick and easy. Once you are approved, you can immediately begin taking advantage of CareCredit®'s benefits. Some of the options offered by CareCredit® include low-interest extended payment plans and 6 to 12 month interest-free plans. A member of our staff can assist you with the application process and answer any questions you may have.
Follow this link or scan the QR code with your phone to learn more!


Contact Austin Dental Spa
For more information on our payment and financing options, or to schedule an appointment at Austin Dental Spa, please contact us today.