Many people have such a pronounced anxiety about going to the dentist that they don't obtain necessary dental work – treatments that can prevent serious damage to their teeth and gums. Some of these anxieties are often rooted in the uncomfortable sounds of drills and the potential pain of injections. With laser dentistry technologies such as Waterlase® MD, Dr. Mark Sweeney and our experienced team can perform a number of treatments that are virtually pain-free.
What Is Laser Dentistry?
Laser dentistry is an advanced technique that can be used in a variety of procedures. At Austin Dental Spa, our team uses Waterlase MD technology, which emits a small, focused beam of light energy to the target area of the mouth. As a gentler, more precise treatment technique, Dr. Sweeney is able to provide more comfortable dental care with improved outcomes. Common treatments performed using laser dentistry include:
Small, tooth-colored fillings
Cosmetic gum reshaping
Canker sore reduction
Removing excess tissue growths and extreme muscle attachments
Sterilizing the periodontal pockets and aiding in gum disease treatment
Video Image Placeholder
What Are the Benefits of Laser Dentistry Treatment?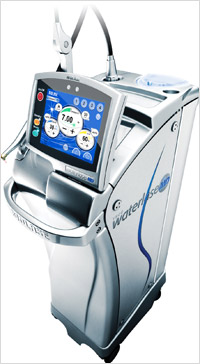 The Waterlase MD laser makes it possible to remove tooth decay, perform dental fillings, and even eliminate diseased bone and gum tissue without using a drill. In fact, for patients who need a small filling, you likely will not even need an injection of local anesthetic for the procedure. Laser energy, coupled by a steady stream of water, takes away the problem areas along the tooth precisely and painlessly. The laser also sterilizes the treatment areas and helps to minimize bleeding and tissue damage. You will most likely not need any stitches after laser procedures, and recovery is typically much faster. The laser is also much quieter than a dental drill, and vibration during treatment is completely eliminated.
Does Laser Dentistry Hurt?
Patients usually find laser dentistry to be much more comfortable than traditional dental techniques. In fact, numbing often is not required during treatment due to the minimal discomfort typically experienced. While there may be a feeling of warmth during treatment, laser dentistry is an especially tolerable method of treatment, due to the addition of water cooling off the tissue as the laser is in use. Additionally, laser treatment offers an improved recovery process, as it eliminates the discomfort involved with stitches, bleeding, and numbness. With virtually pain-free laser dentistry, you may never need to fear a trip to the dentist's office again.
What Risks Are Associated with Laser Dentistry?
When performed by a qualified dental professional like Dr. Sweeney, laser dentistry has minimal risk. The amount and intensity of the laser energy directed at your oral tissues is customized for your specific needs, which is why it is important to seek an experienced dentist who is skilled in laser treatments. Throughout your procedure, you will wear special glasses to help shield your eyes from the laser light.
How Much Does Laser Dentistry Cost?
The cost of laser dentistry is typically similar to that of traditional methods of treatment. However, since laser technology can often provide a more efficient treatment process, procedures can sometimes be completed in fewer sessions, leading to a lower overall cost. The specifics of your personalized laser dentistry treatment, including how much your cost is estimated to be, will be discussed with you during your visit.
Contact Austin Dental Spa
For more information on our no-shot fillings and pain-free laser dentistry procedures, or to schedule an appointment at Austin Dental Spa, please contact us today.