Implant Dentures
What Are Implant Dentures?
Implant dentures use state-of-the-art dental implant technology to anchor a full-arch restoration into the jaw, effectively replacing the upper and/or lower sets of missing teeth. Each implant denture is custom made by our dentists to provide a natural appearance and comfortable fit. With implant dentures, our patients can restore both the form and the function of their teeth with especially lifelike results.
What Are the Pros of Implant Dentures?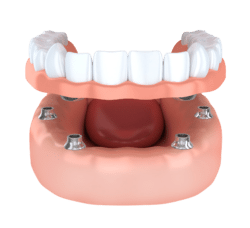 Implant dentures offer a variety of advantages for patients needing to replace full arches of teeth. Unlike traditional dentures, which tend to be inconvenient due to slippage, gum irritation, and messy pastes, patients can expect the following benefits from their implant dentures:
No pastes or adhesives
Improved ability to eat and speak with ease
Enhanced comfort
Easy maintenance
Natural-looking results
Many of our patients who choose implant dentures also experience a boost in self-esteem as they are able to chew, speak, and smile with renewed confidence. Implant supported dentures may also be a good option for patients who seek the benefits of dental implants but are not ideal candidates for a full set of single tooth implants.
Implant Dentures vs. Dentures
Although both traditional dentures and implant dentures can effectively replace missing teeth, implant dentures have a number of unique advantages. A major reason patients choose implant dentures over traditional dentures is the stability of the restoration. Reinforced with strategically placed dental implants, implant dentures can significantly reduce "slippage," improving both comfort and function of the teeth replacement. This added stability creates a stronger bite, allowing patients to eat their favorite foods again with ease. Finally, compared to traditional dentures, implant dentures may reduce the risk of jawbone recession, since the implant posts help stimulate the surrounding bone.
What Are My Implant Denture Options?
During the consultation process, your dentist will perform an oral exam and create a customized implant denture plan to achieve your goals. There are many implant denture techniques available, depending upon your unique needs, including:
All-on-4®
All-on-4® is a specific anchored denture technique that uses four dental implants per arch to secure the restoration. Two implants are placed on either side of the front of the mouth and two additional implants are placed on either side of the rear of the mouth. These rear implants are angled posteriorly to optimize support.
All-on-6
For patients who have lower jawbone density, the "All-on-6" technique can create added stability. All-on-6 is a modified version of the All-on-4® technique that utilizes six implants per arch rather than four.
Full Mouth Restoration
When patients require both arches of teeth to be replaced, a full mouth restoration can be performed. This typically requires a total of four to six implants per arch, such as in the All-on-4® or All-on-6 techniques. The full sets of teeth are carefully designed to create natural-looking teeth with optimal function.
How Is the Implant Dentures Procedure Performed?
Every implant denture procedure is customized for the patient. The location and angle of the dental implants are carefully mapped out before they are surgically implanted into the jaw. Over the course of about three to six months, these dental implants will gradually fuse to the jawbone, providing exceptional stability for the final restoration. While the fusion process takes place, patients can wear a temporary restoration that has been custom-designed for their needs.
How Much Do Implant-Supported Dentures Cost?
Since the implant denture procedure is customized for each patient, there is not a fixed price for the solution. Variables that can impact the total cost of your implant-supported dentures include the denture option chosen for your treatment plan, the total number of dental implants used, and the fees associated with crafting your restoration. Your dentist will provide you with a quote for your implant dentures at the end of your preliminary consultation. For patients who could benefit from flexible payment plans, we offer a number of dental financing options.