Austin Dentist Uses New Kind Of Porcelain Veneers To Preserve Tooth Structure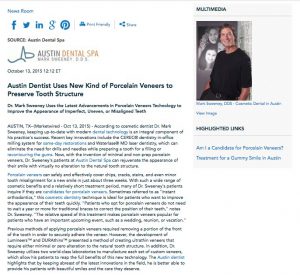 Dr. Mark Sweeney uses the latest advancements in porcelain veneers technology to improve the appearance of imperfect, uneven, or misaligned teeth.
Austin, TX – According to cosmetic dentist Dr. Mark Sweeney, keeping up-to-date with modern dental technology is an integral component of his practice's success. Recent key innovations include the CEREC® dentistry in-office milling system for same-day restorations and Waterlase® MD laser dentistry, which can eliminate the need for drills and needles while preparing a tooth for a filling or recontouring the gums. Now, with the invention of minimal and non-prep porcelain veneers, Dr. Sweeney's patients at Austin Dental Spa can rejuvenate the appearance of their smile with virtually no alteration to the natural tooth structure.
Porcelain veneers can safely and effectively cover chips, cracks, stains, and even minor tooth misalignment for new smile in just about three weeks. With such a wide range of cosmetic benefits and a relatively short treatment period, many of Dr. Sweeney's patients inquire if they are candidates for porcelain veneers. Sometimes referred to as "instant orthodontics," this cosmetic dentistry technique is ideal for patients who want to improve the appearance of their teeth quickly. "Patients who opt for porcelain veneers do not need to wait a year or more for traditional braces to correct the position of their teeth," notes Dr. Sweeney. "The relative speed of this treatment makes porcelain veneers popular for patients who have an important upcoming event, such as a wedding, reunion, or vacation."
Previous methods of applying porcelain veneers required removing a portion of the front of the tooth in order to securely adhere the veneer. However, the development of Lumineers™ and DURAthins™ presented a method of creating ultrathin veneers that require either minimal or zero alteration to the natural tooth structure. In addition, Dr. Sweeney utilizes two world-class laboratories to manufacture each set of custom veneers, which allow his patients to reap the full benefits of this new technology. The Austin dentist highlights that by keeping abreast of the latest innovations in the field, he is better able to provide his patients with beautiful smiles and the care they deserve.
About Mark Sweeney, DDS
After earning his dental degree from the University of Texas Health Science Center Dental School, Dr. Sweeney founded Austin Dental Spa. The practice offers a comprehensive range of dental services, including general, cosmetic, restorative, and sedation dentistry procedures. Dr. Sweeney has been a cosmetic dentist since 1979, and is an active member of the American Dental Association, the American Academy of Cosmetic Dentistry, the Academy of General Dentistry, and the Texas Dental Association. He is also a founding member of the Texas Academy of Cosmetic Dentistry. Dr. Sweeney is available for interview upon request.
For more information about Austin Dental Spa, please visit austindentalspa.com and facebook.com/austindentalspa.
Contact:
Austin Dental Spa
3305 Northland, Suite 515
Austin, TX 78731
(512) 380-1300
Rosemont Media
(858) 200-0044
www.rosemontmedia.com