Austin Dentistry Practice Discusses Innovative Pain-Free Dental Laser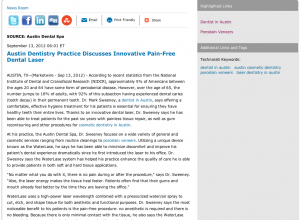 Austin, TX — According to recent statistics from the National Institute of Dental and Craniofacial Research (NIDCR), approximately 5% of Americans between the ages 20 and 64 have some form of periodontal disease. However, over the age of 65, the number jumps to 18% of adults, with 92% of this subsection having experienced dental caries (tooth decay) in their permanent teeth. Dr. Mark Sweeney, a dentist in Austin, says offering a comfortable, effective hygiene treatment for his patients is essential for ensuring they have healthy teeth their entire lives. Thanks to an innovative dental laser, Dr. Sweeney says he has been able to treat patients for the past six years with painless tissue repair, as well as gum recontouring and other procedures for cosmetic dentistry in Austin.
At his practice, the Austin Dental Spa, Dr. Sweeney focuses on a wide variety of general and cosmetic services ranging from routine cleanings to porcelain veneers. Utilizing a unique device known as the WaterLase, he says he has been able to minimize discomfort and improve his patient's dental experience dramatically since he first introduced the laser to his office. Dr. Sweeney says the WaterLase system has helped his practice enhance the quality of care he is able to provide patients in both soft and hard tissue applications.
"No matter what you do with it, there is no pain during or after the procedure," says Dr. Sweeney. "Also, the laser energy makes the tissue heal faster. Patients often find that their gums and mouth already feel better by the time they are leaving the office."
WaterLase uses a high-power laser wavelength combined with a pressurized water/air spray to cut, etch, and shape tissue for both aesthetic and functional purposes. Dr. Sweeney says the most noticeable benefit to his patients is the pain-free procedure: no anesthetic is required and there is no bleeding. Because there is only minimal contact with the tissue, he also says the WaterLase system is cleaner, more hygienic, and more precise than other devices.
Whether he uses laser dentistry to treat small decayed areas found during hygiene examinations, or perform a cosmetic gum recontouring procedure, Dr. Sweeney says the WaterLase device has become an integral part of his practice. Even with all its unique benefits, however, he says laser dentistry requires a steady and experienced hand and should only be performed by a professional dentist. Dr. Sweeney says he encourages all patients to consult with a qualified dental practice before undergoing any laser procedure, in order to receive the safest and most beneficial treatment possible.
About Mark Sweeney, DDS
Dr. Mark Sweeney graduated from the University of Texas at Austin and earned his Doctor of Dental Surgery degree from the University of Texas Health Science Center Dental School. He is a member of the American Academy of Cosmetic Dentistry, the Texas Dental Association, the American Dental Association, and several other professional organizations. Dr. Sweeney has dedicated several hundred hours to his continued education and is a founding member of the Texas Academy of Cosmetic Dentistry.
The Austin Dental Spa is located at 3305 Northland, Suite 515 in Austin, TX and can be reached at (512) 380-1300. The practice can also be contacted online via the website www.austindentalspa.com or the Austin Dental Spa Facebook page.