Teeth Whitening vs. Porcelain Veneers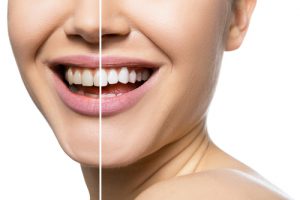 Pretty much everyone wants a flawless smile with teeth that look healthy, straight, and white. With the many advancements in cosmetic dentistry over the years, our patients are able to achieve their dream smile through a variety of treatment options. Two of the most popular solutions that our team offers to help enhance patients' smiles are teeth whitening and porcelain veneers. Although both treatments can be used to transform a patient's smile, teeth whitening and porcelain veneers have unique benefits.
Professional teeth whitening at Austin Dental Spa can brighten teeth as much as 8-15 shades or more. Even dark stains, like tetracycline-affected teeth, can be improved with our advanced whitening systems.
Porcelain veneers are used to conceal a variety of tooth imperfections, including chips, cracks, gaps, and stains. The process usually requires some degree of tooth preparation before the custom-made, ultra-thin porcelain shell is affixed to the front of each tooth.
Since teeth whitening is considered a more conservative treatment, Dr. Sweeney will typically recommend this option first for those wanting a brighter smile. Patients who have additional concerns, such as wanting to address tooth cracks or mild misalignment, may be better suited for the porcelain veneer treatment. The best option for your needs will ultimately be determined during an oral evaluation with Dr. Sweeney. To get started on your journey to a bright and beautiful smile, please contact our office today!