What Causes Teeth Staining?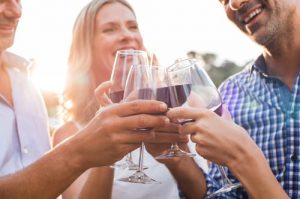 Stains and discolorations affecting the appearance of your teeth can be caused by a wide variety of factors. Your genetics certainly have an affect on the overall tint of your teeth, since the base shade you were born with will have an impact on how they appear later on in life, as well as how they react to teeth whitening treatments. Additionally, your genetics determine whether your teeth are more translucent or opaque—teeth that are thin and more transparent may be prone to showing a greater amount of discoloration and can be more difficult to whiten, in some cases. Other variables that can affect the color of your teeth include:
Age – as we get older, our teeth become darker, due to stain accumulation and general use over the years.
Certain foods and drinks – cola, red wine, coffee, tea, berries, carrots, beets, tomato sauce, and soy sauce are just a few of the most common beverages and foods that can gradually stain teeth. Foods that are acidic, like citrus fruits and vinegar are also known to potentially cause enamel erosion, ultimately affecting the color of your teeth.
Smoking – in addition to having a negative affect on your overall health, smoking can lead to brown stains and discoloration on the teeth.
Tooth damage – grinding your teeth can cause micro-cracks, resulting in a darker appearance along the biting surfaces. Other trauma to the teeth, such as a fall or injury (often sports-related) can also sometimes create substantial cracks that make teeth more susceptible to staining.
Medications – some types of medicine can lead to tooth discoloration, such as tetracycline. This particular drug is known to cause stubborn grey or brown stains along the teeth that can often be difficult to remove.
Depending on how stained or discolored your teeth are, Dr. Sweeney can customize a teeth whitening treatment plan designed to provide you with the whitest, brightest teeth possible. To schedule a consultation and get a more dazzling smile, please contact us today.