How Can I Calm My Nerves Before Going to the Dentist?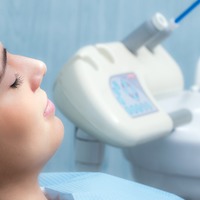 Most people wouldn't describe going to the dentist as a fun or pleasant experience, but at Austin Dental Spa, our friendly team has made patients rethink what it means to go to the dentist. While we strive to create a warm and comfortable atmosphere, we also understand that getting dental work done can be nerve-wracking. Our dentist, Mark Sweeney, DDS, has helped numerous patients who struggle with dental anxiety overcome their fear.
If you tend to dread going to the dentist, potentially avoiding dental care altogether as a result, there are certain steps you can take to help calm your anxiety.
Find a dental team that helps you feel relaxed and like you are in good hands
Get referrals to a dentist from people you trust, such as friends and family
Listen to music during your appointment to drown out sounds that cause you stress
Take advantage of sedation dentistry for worry-free appointments
Patients may have different reasons for why they're reluctant to go to the dentist, but by taking small steps like those mentioned above, you can gradually let go of the negative feelings you have towards dental visits. 
Our office has been designed as a relaxing space to help patients feel comfortable and at-ease. In addition to a wide range of amenities—like leather chairs, soothing candles, blankets, music, and chair massages—we offer multiple sedation options for those with dental phobia. Whether you're undergoing a routine cleaning or a more advanced procedure, we can help you understand how options like nitrous oxide (laughing gas), oral conscious sedation, and IV sedation can help you rest as we provide gentle, conservative dental care. 
To learn more about our dedication to helping you feel at-home during every dental visit, please feel free to contact us!