Austin Cosmetic Dentist Introduces Painless Dental Anesthesia to Practice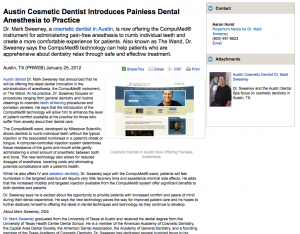 Dr. Mark Sweeney, a cosmetic dentist in Austin, is now offering the CompuMed® instrument for administering pain-free anesthesia to numb individual teeth and create a more comfortable experience for patients. Also known as The Wand, Dr. Sweeney says the CompuMed® technology can help patients who are apprehensive about dentistry relax through safe and effective treatment.
Austin dentist Dr. Mark Sweeney has announced that he will be offering the latest dental innovation in the administration of anesthesia, the CompuMed® instrument, or The Wand. At his practice, Dr. Sweeney focuses on procedures ranging from general dentistry and routine cleanings to cosmetic teeth whitening procedures and porcelain veneers. He says that the introduction of the CompuMed® technology will allow him to enhance the level of patient comfort available at his practice for those who suffer from anxiety about their dental care.
The CompuMed® wand, developed by Milestone Scientific, allows dentists to numb individual teeth without the typical injection or the associated numbness in a patient's cheek or tongue. A computer-controlled injection system determines tissue resistance of the gums and mouth while gently administering a small amount of anesthetic between tooth and bone. The new technology also allows for reduced dosages of anesthesia, lowering costs and eliminating potential complications with a patient's health.
While he also offers IV and sedation dentistry, Dr. Sweeney says with the CompuMed® wand, patients will feel numbness in the targeted area but will require very little recovery time and experience minimal side effects. He adds that the increased mobility and targeted injection available from the CompuMed® system offer significant benefits to both dentists and patients.
Dr. Sweeney says he is excited about the opportunity to provide patients with increased comfort and peace of mind during their dental experience. He says the new technology paves the way for improved patient care and he hopes to further dedicate himself to offering the latest in dental techniques and technology as they continue to develop.
About Mark Sweeney, DDS
Dr. Mark Sweeney graduated from the University of Texas at Austin and received his dental degree from the University of Texas Health Center Dental School. He is a member of the American Academy of Cosmetic Dentistry, the Capital Area Dental Society, the American Dental Association, the Academy of General Dentistry, and a founding member of the Texas Academy of Cosmetic Dentistry. Dr. Sweeney has dedicated several hundred hours to his continued education in cosmetic dental techniques and technology.
Located at 3305 Northland, Suite 515 in Austin, TX, Dr. Sweeney's practice, Austin Dental Spa, can be reached at (512) 380-1300. It can also be found online via the website austindentalspa.com or facebook.com/austindentalspa.
###