Austin Cosmetic Dentist Answers Common Questions About Teeth Whitening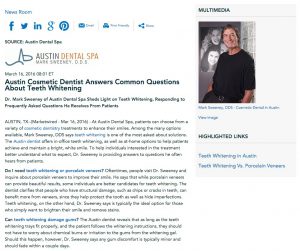 Dr. Mark Sweeney of Austin Dental Spa sheds light on teeth whitening, responding to frequently asked questions he receives from patients.
Austin, TX —  At Austin Dental Spa, patients can choose from a variety of cosmetic dentistry treatments to enhance their smiles. Among the many options available, Mark Sweeney, DDS says teeth whitening is one of the most asked about solutions. The Austin dentist offers in-office teeth whitening, as well as at-home options to help patients achieve and maintain a bright, white smile. To help individuals interested in the treatment better understand what to expect, Dr. Sweeney is providing answers to questions he often hears from patients.
Do I need teeth whitening or porcelain veneers? Oftentimes, people visit Dr. Sweeney and inquire about porcelain veneers to improve their smile. He says that while porcelain veneers can provide beautiful results, some individuals are better candidates for teeth whitening. The dentist clarifies that people who have structural damage, such as chips or cracks in teeth, can benefit more from veneers, since they help protect the tooth as well as hide imperfections. Teeth whitening, on the other hand, Dr. Sweeney says is typically the ideal option for those who simply want to brighten their smile and remove stains.
Can teeth whitening damage gums? The Austin dentist reveals that as long as the teeth whitening trays fit properly, and the patient follows the whitening instructions, they should not have to worry about chemical burns or irritation to the gums from the whitening gel. Should this happen, however, Dr. Sweeney says any gum discomfort is typically minor and should fade within a couple days.
How long does teeth whitening last? The longevity of teeth whitening results will vary greatly from person to person. Dr. Sweeney notes that the condition of the patient's teeth, severity of their staining, and whitening method used can all play a role in how long they can expect their results to last. In general, he says people typically can expect their teeth to maintain their brightness anywhere from six months to two years before they begin to fade. However, Dr. Sweeney says habits like drinking red wine, coffee, or tea, as well as smoking, can cause teeth to darken at a much faster rate. Because of this, he recommends limiting staining foods and drinks and avoiding smoking altogether to preserve teeth whiteness.
When it comes to finding the most beneficial solution for achieving a bright, white smile, Dr. Sweeney emphasizes the need to consult with an experienced cosmetic dentist. By doing so, he believes patients can receive a more personalized treatment plan that can ultimately help them obtain their goal results.
About Mark Sweeney, DDS
Since 1979, Dr. Sweeney has been providing state-of-the-art dental care to the Austin area. After graduating from the University of Texas at Austin, he pursued his dental degree at the University of Texas Health Science Center Dental School. Although general dentistry is a passion of his, Dr. Sweeney has a special interest in cosmetic dentistry, striving to help patients improve the appearance of their smiles. At Austin Dental Spa, he works alongside Dr. Jordan Slagter to offer a comprehensive array of dental care. Dr. Sweeney undergoes continuing education to stay abreast of the latest advancements in dentistry. He is also a member of a variety of professional organizations, including the American Academy of Cosmetic Dentistry, the American Dental Association, and the Academy of General Dentistry. Dr. Sweeney is available for interview upon request.
For more information about Austin Dental Spa, visit austindentalspa.com and facebook.com/austindentalspa.
Contact:
Austin Dental Spa
3305 Northland, Suite 515
Austin, TX 78731
(512) 380-1300
Rosemont Media
(858) 200-0044
www.rosemontmedia.com