What are the Side Effects of Sedation Dentistry?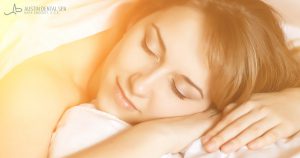 The benefits of sedation dentistry are clear for our patients dealing with mild to severe dental phobia: a feeling of deep relaxation, an opportunity to get the oral health care they require, and a reduced risk of more complicated – and costly – dental concerns in the future. Our patients at Austin Dental Spa frequently ask if there are any negative side effects associated with sedation dentistry. Is feeling comfortable and confident at the dentist too good to be true?
The sedation dentistry techniques we use have a history of being both safe and effective. Nitrous oxide can make you feel a little "out of it" during treatment, but most patients drive themselves home soon after their procedure. Oral conscious sedation utilizes a small prescription medication taken before your treatment to ease your anxiety during the procedure. As with any medication, there is the potential for side effects with this drug, including dizziness, headache, a temporary "dry mouth" feeling, and grogginess; however, the drug used for oral conscious sedation is not addictive and rarely causes any extreme side effects other than tiredness after treatment. To help ensure your safety, our dentists review your medical history as well as your current medications to minimize the potential for risk.
For patients with extreme dental anxiety who choose to undergo I.V. sedation, we can assure you that we only work with highly-respected local anesthesiologists. They will be present throughout the duration of your procedure to closely monitor your vital signs and protect your health. This type of sedation dentistry will also cause you to feel groggy and tired once the treatment is complete, and it will be necessary to arrange for someone to bring you home from your appointment. Our dentist will also thoroughly review your medical records, and you are encouraged to be forthright about any family history of allergies or other reactions to any form of sedation.
During the consultation process, our dentist will go over your sedation dentistry options and help you choose a method that can best meet your needs. If you have any further questions regarding our sedation dentistry techniques, or to schedule a consultation, please contact our office today.