Can Charcoal Toothpaste Whiten My Teeth?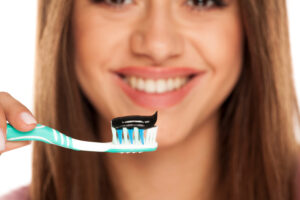 Products with activated charcoal have grown in popularity due to claims of the material removing stains and toxins from the body. Charcoal toothpaste, in particular, has become marketed as a way to whiten teeth more naturally. With traditional teeth whitening methods, a bleaching process causes a chemical reaction within the tooth, lightening the deep-set stains and overall color of the teeth. Charcoal acts in a similar way to whitening toothpastes — polishing surface stains off the outer enamel — but there is no scientific evidence at this point showing that the material can break down the underlying stains.
Depending on the charcoal toothpaste you choose, this may actually cause damage to your teeth enamel due to the excessive abrasiveness. Any whitening you experience is most likely the removal of superficial stains on the outer teeth, which can be achieved through whitening toothpastes, as well. When it comes to selecting toothpastes, make sure you look for the American Dental Association's Seal of Acceptance. This program indicates the safety and effectiveness of the product, ensuring you are not exposing your teeth to excess abrasion that may cause long-term tooth damage.
If you are interested in brightening your teeth but need more significant whitening than toothpastes can offer, you may want to consider other over-the-counter whitening products or schedule an appointment for a professional teeth whitening. Our team at Austin Dental Spa offers two exciting whitening treatments: Zoom!® Advanced Power and KöR® Whitening Deep Bleaching™. For more information about our treatments, or to schedule an appointment with one of our cosmetic dentists, please contact our office today!