Urgent and Emergency Dental Care Available at Austin Dental Spa: Hands-Free Check Outs & New Patient Safety Protocols in Place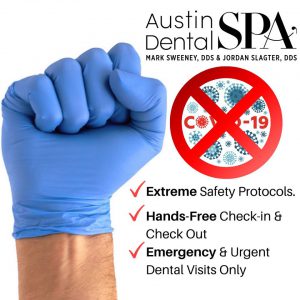 Austin Dental Spa has always gone above and beyond in keeping our patients and team members safe and healthy.
Recently, due to the threat of COVID-19 , we have made essential changes and modified our protocols of the patient experience. THE SAFETY AND WELL BEING OF BOTH OUR PATIENTS AND TEAM MEMBERS IS OUR TOP PRIORITY.
Here are the changes we have implemented:
We have a minimal team in place. Each of our team members is monitored for temperature and other signs of viral infection and must show no symptoms of being ill.
We are limiting our care to URGENT or EMERGENCY TREATMENTS. These treatments are defined as an oral health situation that, if not treated, will get worse; or is causing enough pain to prevent sleep.
How to Contact Us. Our phones will be answered at the usual number of 512-452-9296, Monday through Thursday, from 9 am to 4 pm. And Dr. Mark's emergency line will be active, during non-business hours.
Reception & Scheduling. Our reception area and common areas are closed. And no more than one patient will be scheduled at a time.
Arrival Process is Hands-Free. Upon arrival in our parking lot, each patient will call our office from their car. We will send a dental assistant down to the lobby area on the first floor of our building. The patient will then be escorted into the elevator, not having to press any buttons. Then taken into our office, with the patient not having to touch anything. If the patient would like to enter the lobby on their own, they may push the pad, located to the right of the exterior front doors, with their knee or elbow.
Temperatures Taken. As a patient enters our office, non-touch temperatures will be taken with our high-tech thermometers. If a patient's temperature exceeds 100.4 F, the patient will not be seen.
Hands-Free Check In & Check Out. We have a portal where patients can check-in online, and be able to checkout and pay online. The only surface a patient will touch is the dental chair.
Cleanliness and ZERO exposure to other patients. We will continue to spray down each room as we always have, with disinfectant and wipe all surfaces clean. Additionally, we will NOT SEAT ANOTHER PATIENT IN THE SAME DENTAL CHAIR AND ROOM FOR A MINIMUM OF 2 HOURS. We have more than enough chairs and rooms in our office to do this
It's never been safer to visit Austin Dental Spa. Just don't forget to wash your hands and floss at home!
We'll get through this!
Mark Sweeney, D.D.S.
Owner, and Chief Dentist of Austin Dental Spa