Austin Cosmetic Dentistry Patient Says Her Veneers Turned Her Frown Upside Down!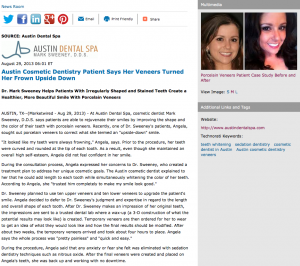 Dr. Mark Sweeney helps patients with irregularly shaped and stained teeth create a healthier, more beautiful smile with porcelain veneers.
Austin, TX – At Austin Dental Spa, cosmetic dentist Mark Sweeney, D.D.S. says patients are able to rejuvenate their smiles by improving the shape and the color of their teeth with porcelain veneers. Recently, one of Dr. Sweeney's patients, Angela, sought out porcelain veneers to correct what she termed an "upside-down" smile.
"It looked like my teeth were always frowning," Angela, says. Prior to the procedure, her teeth were curved and rounded at the tip of each tooth. As a result, even though she maintained an overall high self-esteem, Angela did not feel confident in her smile.
During the consultation process, Angela expressed her concerns to Dr. Sweeney, who created a treatment plan to address her unique cosmetic goals. The Austin cosmetic dentist explained to her that he could add length to each tooth while simultaneously whitening the color of her teeth. According to Angela, she "trusted him completely to make my smile look good."
Dr. Sweeney planned to use ten upper veneers and ten lower veneers to upgrade the patient's smile. Angela decided to defer to Dr. Sweeney's judgment and expertise in regard to the length and overall shape of each tooth. After Dr. Sweeney makes an impression of her original teeth, the impressions are sent to a trusted dental lab where a wax-up (a 3-D construction of what the potential results may look like) is created. Temporary veneers are then ordered for her to wear to get an idea of what they would look like and how the final results should be modified. After about two weeks, the temporary veneers arrived and took about four hours to place. Angela says the whole process was "pretty painless" and "quick and easy."
During the procedure, Angela said that any anxiety or fear she felt was eliminated with sedation dentistry techniques such as nitrous oxide. After the final veneers were created and placed on Angela's teeth, she was back up and working with no downtime.
Angela says that she would definitely recommend porcelain veneers to others—and has been doing so since the first day she got them. "It has been a big deal for me." In fact, she told Dr. Sweeney that she has been receiving compliments since the procedure: "People come up to me and say things like 'Oh, your smile is so perfect,' and 'your teeth are so white.' In addition to enjoying all of the kind words, Angela says she finds herself smiling more now because she is much happier with the appearance of her teeth.
About Mark Sweeney, DDS
Dr. Mark Sweeney is a graduate of the University of Texas at Austin and earned his dental degree from the University of Texas Health Science Center Dental School. He is a member of the American Academy of Cosmetic Dentistry, the Academy of General Dentistry, and a founding member of the Texas Academy of Cosmetic Dentistry. In addition to porcelain dental veneers, Dr. Sweeney offers a range of dental treatments at Austin Dental Spa, including teeth whitening, dental implant restorations, and single-visit crowns. Dr. Sweeney is available for interview upon request.
This practice can be reached online at austindentalspa.com or facebook.com/austindentalspa.