Patient Receives Dental Veneers for a Smile She's Proud to Show Off!
Angela always considered herself a rather confident person but felt self-conscious every time she smiled. She was unhappy with how the ends of her teeth were rounded, saying, "It looked like my teeth were always frowning." In hopes of improving the look of her smile, she visited Dr. Mark Sweeney for a consultation. At this time, Angela and Dr. Sweeney discussed her goals, and he created a personalized treatment plan to address her concerns.
Dr. Sweeney recommended teeth whitening as well as ten upper and ten lower porcelain veneers to add length to Angela's teeth. He created a wax model of the predicted final results to help her visualize her new smile, allowing adjustments to be made if necessary. From there, Dr. Sweeney placed temporaries on Angela's prepared teeth while the permanent veneers were being crafted. She explains how throughout the entire process she felt calm and relaxed, thanks to the use of sedation dentistry.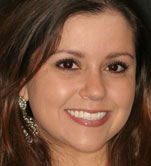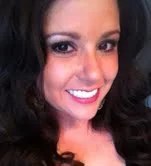 Once Angela's final dental veneers were put into place, she was able to resume work immediately and show off her new smile. She highly recommends the treatment to anyone who is dissatisfied with their smile, explaining how it completely changed the way she felt about hers. Angela loves all the compliments she continues to receive and notes, "I find myself smiling a lot more."
If you would like to learn how Dr. Sweeney can enhance your smile, please schedule a consultation with us today!