Conservative Smile Makeovers at Austin Dentistry Practice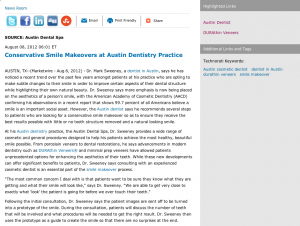 Austin, TX — Dr. Mark Sweeney, a dentist in Austin, says he has noticed a recent trend over the past few years amongst patients at his practice who are opting to make subtle changes to their smile in order to improve certain aspects of their dental structure while highlighting their own natural beauty. Dr. Sweeney says more emphasis is now being placed on the aesthetics of a person's smile, with the American Academy of Cosmetic Dentistry (AACD) confirming his observations in a recent report that shows 99.7 percent of all Americans believe a smile is an important social asset. However, the Austin dentist says he recommends several steps to patients who are looking for a conservative smile makeover so as to ensure they receive the best results possible with little or no tooth structure removed and a natural looking smile.
At his Austin dentistry practice, the Austin Dental Spa, Dr. Sweeney provides a wide range of cosmetic and general procedures designed to help his patients achieve the most healthy, beautiful smile possible. From porcelain veneers to dental restorations, he says advancements in modern dentistry such as DURAthin Veneers® and minimal prep veneers have allowed patients unprecedented options for enhancing the aesthetics of their teeth. While these new developments can offer significant benefits to patients, Dr. Sweeney says consulting with an experienced cosmetic dentist is an essential part of the smile makeover process.
"The most common concern I deal with is that patients want to be sure they know what they are getting and what their smile will look like" says Dr. Sweeney. "We are able to get very close to exactly what "look" the patient is going for before we ever touch their teeth."
Following the initial consultation, Dr. Sweeney says the patient images are sent off to be turned into a prototype of the smile. During the consultation, patients will discuss the number of teeth that will be involved and what procedures will be needed to get the right result. Dr. Sweeney then uses the prototype as a guide to create the smile so that there are no surprises at the end.
"It is important that patients choose a dentist with the proper experience and technical skill to maintain as much of the original tooth structure as possible. Nobody wants to have something done over again,'" he says.
Regularly seeing patients for cosmetic revisions, Dr. Sweeney says he understands the importance of patients researching their procedure as well as their practice before making any decisions to undergo treatment. However, by taking the time to lay out a personalized plan with an experienced and dedicated cosmetic dentist, he says patients can achieve a conservative smile makeover with the best results possible.
About Mark Sweeney, DDS
Dr. Mark Sweeney earned his undergraduate degree from the University of Texas at Austin and his dental degree from the University of Texas Health Science Center Dental School. He has dedicated numerous hours to his continued education by taking several courses with leading cosmetic dentists across the country. Dr. Sweeney is a sustaining member of the American Academy of Cosmetic Dentistry, the American Dental Association, the Academy of General Dentistry, the Academy of Comprehensive Esthetics, and several other professional organizations.
Located at 3305 Northland, Suite 515 in Austin, TX, the Austin Dental Spa can be reached at (512) 380-1300. It can also be contacted online via the website austindentalspa.com or the Austin Dental Spa Facebook page.