Austin Cosmetic Dentistry Practice Expands Dental Team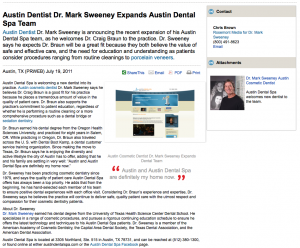 Austin Dentist Dr. Mark Sweeney is announcing the recent expansion of his Austin Dental Spa team, as he welcomes Dr. Craig Braun to the practice. Dr. Sweeney says he expects Dr. Braun will be a great fit because they both believe the value of safe and effective care, and the need for education and understanding as patients consider procedures ranging from routine cleanings to porcelain veneers.
Austin Dental Spa is welcoming a new dentist into its practice. Austin cosmetic dentist Dr. Mark Sweeney says he believes Dr. Craig Braun is a good fit for his practice because he places a tremendous amount of value in the quality of patient care. Dr. Braun also supports the practice's commitment to patient education, regardless of whether he is performing a routine cleaning or a more comprehensive procedure such as a dental bridge or sedation dentistry.
Dr. Braun earned his dental degree from the Oregon Health Sciences University, and practiced for eight years in Salem, OR. While practicing in Oregon, Dr. Braun also traveled across the U. S. with Dental Boot Kamp, a dental customer service training organization. Since making the move to Texas, Dr. Braun says he is enjoying the diversity and active lifestyle the city of Austin has to offer, adding that he and his family are settling in very well: "Austin and Austin Dental Spa are definitely my home now."
Dr. Sweeney has been practicing cosmetic dentistry since 1979, and says the quality of patient care Austin Dental Spa offers has always been a top priority. He adds that from the beginning, he has hand-selected each member of his team to ensure positive dental experiences with each office visit. Considering Dr. Braun's experience and expertise, Dr. Sweeney says he believes the practice will continue to deliver safe, quality patient care with the utmost respect and compassion for their cosmetic dentistry patients.
About Dr. Sweeney
Dr. Mark Sweeney earned his dental degree from the University of Texas Health Science Center Dental School. He specializes in a range of cosmetic procedures, and pursues a rigorous continuing education schedule to ensure he offers the latest technology and techniques to his Austin Dental Spa patients. Dr. Sweeney is a member of the American Academy of Cosmetic Dentistry, the Capital Area Dental Society, the Texas Dental Association, and the American Dental Association.
Austin Dental Spa is located at 3305 Northland, Ste. 515 in Austin, TX 78731, and can be reached at (512) 380-1300, or found online at either austindentalspa.com or the Austin Dental Spa Facebook page.
###