Austin Dentist Discusses What to Know After Dental Implant Surgery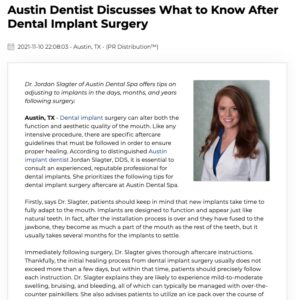 Dr. Jordan Slagter of Austin Dental Spa offers tips on adjusting to implants in the days, months, and years following surgery.
Austin, TX – Dental implant surgery can alter both the function and aesthetic quality of the mouth. Like any intensive procedure, there are specific aftercare guidelines that must be followed in order to ensure proper healing. According to distinguished Austin implant dentist Jordan Slagter, DDS, it is essential to consult an experienced, reputable professional for dental implants. She prioritizes the following tips for dental implant surgery aftercare at Austin Dental Spa.
Firstly, says Dr. Slagter, patients should keep in mind that new implants take time to fully adapt to the mouth. Implants are designed to function and appear just like natural teeth. In fact, after the installation process is over and they have fused to the jawbone, they become as much a part of the mouth as the rest of the teeth, but it usually takes several months for the implants to settle.
Immediately following surgery, Dr. Slagter gives thorough aftercare instructions. Thankfully, the initial healing process from dental implant surgery usually does not exceed more than a few days, but within that time, patients should precisely follow each instruction. Dr. Slagter explains they are likely to experience mild-to-moderate swelling, bruising, and bleeding, all of which can typically be managed with over-the-counter painkillers. She also advises patients to utilize an ice pack over the course of the first 24 hours to help the swelling go down, and to refrain from brushing the area for the first days after surgery. After a few days have passed, you may gently brush and floss. You may also rinse the area to keep it clean, but note that rinsing too vigorously could disrupt the implant.
For the first few days, Dr. Slagter encourages patients to eat only soft foods. She says there are plenty of delicious, healthy foods that are perfect for this aftercare process, such as applesauce, yogurt, or ice cream. Dr. Slagter advises patients to adhere to this diet at first, then "graduate" to firmer foods, such as soft bread, oatmeal, and mashed bananas. Much like aggressive rinsing, the acts of biting, chewing, or using a straw can irritate the surgical site.
Lastly, to keep implants looking exceptional and functioning properly, Dr. Slagter reminds patients to treat them – as well as the rest of the teeth – with the utmost care. She notes that it is more important than ever to stick to a daily brushing and flossing routine, and to diligently attend all routine exams and cleanings.
Having performed implant dentistry for several years, Dr. Slagter says her patients report feeling very happy with their decision to receive dental implants. She adds that when patients maintain excellent oral hygiene and keep the rest of these expert tips in mind, implants are likely to last for years – even decades – to come. She encourages anyone interested in learning more about dental implants to schedule a consultation with a qualified professional.
About Jordan Slagter, DDS
Dr. Slagter has been a member of the Austin Dental Spa team since summer 2013, and she is experienced in a variety of dental areas, from dental implants and implant-supported dentures to smile makeovers and TMJ treatment. A graduate of University of Maryland School of Dentistry, she regularly attends continuing education courses to keep up with the latest in oral health, and has trained under the famous dentist Dr. John Chao. Dr. Slagter is committed to helping patients achieve beautiful, healthy teeth by providing high-quality and compassionate care. She is available for interview upon request.
To learn more about Austin Dental Spa, visit austindentalspa.com, facebook.com/austindentalspa, and @austindentalspa on Instagram.
Contact:
Austin Dental Spa
3305 Northland Dr., Suite 515
Austin, TX 78731
(512) 380-1300
Rosemont Media
(800) 491-8623
www.rosemontmedia.com