Austin Dentist Reveals Benefits of Treating Gum Recession with the Pinhole Surgical Technique™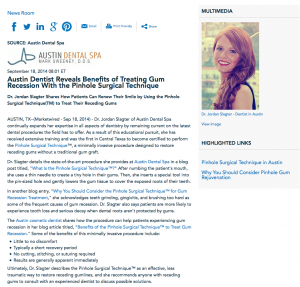 Dr. Jordan Slagter shares how patients can renew their smile by using the Pinhole Surgical Technique™ to treat their receding gums.
Austin, TX — Dr. Jordan Slagter of Austin Dental Spa continually expands her expertise in all aspects of dentistry by remaining current on the latest dental procedures the field has to offer. As a result of this educational pursuit, she has received extensive training and was the first in Central Texas to become certified to perform the Pinhole Surgical Technique™, a minimally invasive procedure designed to restore receding gums without a traditional gum graft.
Dr. Slagter details the state-of-the-art procedure she provides at Austin Dental Spa in a blog post titled, "What Is the Pinhole Surgical Technique™?" After numbing the patient's mouth, she uses a thin needle to create a tiny hole in their gums. Then, she inserts a special tool into the pin-sized hole and gently lowers the gum tissue to cover the exposed roots of their teeth.
In another blog entry, "Why You Should Consider the Pinhole Surgical Technique™ for Gum Recession Treatment," she acknowledges teeth grinding, gingivitis, and brushing too hard as some of the frequent causes of gum recession. Dr. Slagter also says patients are more likely to experience tooth loss and serious decay when dental roots aren't protected by gums.
The Austin cosmetic dentist shares how the procedure can help patients experiencing gum recession in her blog article titled, "Benefits of the Pinhole Surgical Technique™ to Treat Gum Recession." Some of the benefits of this minimally invasive procedure include:
Little to no discomfort
Typically a short recovery period
No cutting, stitching, or suturing required
Results are generally apparent immediately
Ultimately, Dr. Slagter describes the Pinhole Surgical Technique™ as an effective, less traumatic way to restore receding gumlines, and she recommends anyone with receding gums to consult with an experienced dentist to discuss possible solutions.
About Dr. Jordan Slagter
Dr. Slagter graduated Summa Cum Laude from the University of Maryland School of Dentistry. She also received additional training by completing a one-year residency in Advanced General Dentistry at the University of Maryland. Along with Dr. Mark Sweeney, she offers the latest cosmetic, general, and restorative dental services at Austin Dental Spa. She is available for interview upon request.
For more information on Dr. Jordan Slagter and Austin Dental Spa, please visit austindentalspa.com or facebook.com/austindentalspa.
Contact:
Austin Dental Spa
3305 Northland, Suite 515
Austin, TX 78731
(512) 380-1300
Rosemont Media
(858) 200-0044
www.rosemontmedia.com