Austin Dentist Shares Advantages of Dental Implants as a Tooth Replacement Option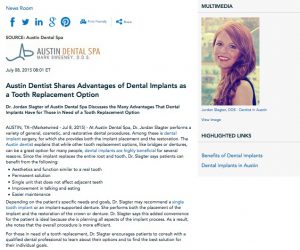 Dr. Jordan Slagter of Austin Dental Spa discusses the many advantages that dental implants have for those in need of a tooth replacement option.
Austin, TX –  At Austin Dental Spa, Dr. Jordan Slagter performs a variety of general, cosmetic, and restorative dental procedures. Among these is dental implant surgery, for which she provides both the implant placement and the restoration. The Austin dentist explains that while other tooth replacement options, like bridges or dentures, can be a great option for many people, dental implants are highly beneficial for several reasons. Since the implant replaces the entire root and tooth, Dr. Slagter says patients can benefit from the following:
Aesthetics and function similar to a real tooth
Permanent solution
Single unit that does not affect adjacent teeth
Improvement in talking and eating
Easier maintenance
Depending on the patient's specific needs and goals, Dr. Slagter may recommend a single tooth implant or an implant-supported denture. She performs both the placement of the implant and the restoration of the crown or denture. Dr. Slagter says this added convenience for the patient is ideal because she is planning all aspects of the implant process. As a result, she notes that the overall procedure is more efficient.
For those in need of a tooth replacement, Dr. Slagter encourages patients to consult with a qualified dental professional to learn about their options and to find the best solution for their individual goals.
About Jordan Slagter, DDS
Dr. Slagter graduated from Penn State University with her undergraduate degree and continued to the University of Maryland School of Dentistry, where she earned her dental degree. Following dental school, Dr. Slagter completed a residency at the University of Maryland in Advanced General Dentistry. As a recent addition to Austin Dental Spa, she performs such procedures as dental implants, porcelain veneers, crowns, and the pinhole gum rejuvenation. Dr. Slagter is available for interview upon request.
For more information about Dr. Slagter and Austin Dental Spa, visit austindentalspa.com and facebook.com/austindentalspa.
Contact:
Austin Dental Spa
3305 Northland, Suite 515
Austin, TX 78731
(512) 380-1300
Rosemont Media
(858) 200-0044
www.rosemontmedia.com